Josh Hawley Has Had Enough Of Merrick Garland's Weaponized DOJ
Fox News has the story of Missouri's junior senator Josh Hawley writing a strongly-worded letter on a topic every American ought to be incensed about…
Sen. Josh Hawley, R-Mo., on Monday sent Attorney General Merrick Garland a letter demanding answers on "shocking reports" about the FBI arresting a Catholic pro-life activist at his home in rural Pennsylvania last Friday. 

FBI agents arrest Mark Houck in Kintnersville Friday for allegedly violating the Freedom of Access to Clinic Entrances (FACE) Act, which makes it a federal crime to use force with the intent to injure, intimidate and interfere with anyone because that person produces reproductive health care. 

The arrest stemmed from an alleged altercation Houck had with a Planned Parenthood escort in Philadelphia in October 2021. Houck is accused of pushing a 72-year-old man after the escort allegedly verbally harassed Houck's 12-year-old son outside the clinic.  

Houck has maintained that he was trying to defend his son, and authorities have already dismissed a separate complaint against him for the same conduct. 

In his letter to Garland, Hawley accused the Attorney General of turning a "local dispute into a national case" and criticized the FBI for executing the search warrant in "extreme a manner as one can imagine." 

Houck's wife, Ryan-Marie, told Catholic News Agency that a "SWAT team of about 25 came to my house with about 15 vehicles and started pounding on our door."  

The FBI has refuted her claims, saying that no SWAT Team or SWAT operators were involved in the arrest. 

"FBI agents knocked on Mr. Houck's front door, identified themselves as FBI agents, and asked him to exit the residence," FBI agents told Fox News in a statement. "He did so and was taken into custody without incident pursuant to an indictment." 

A senior FBI source told Fox News there may have been 15-20 agents at the scene, but denied 25 were there. The agents who came to the door had guns out and at the ready, according to this FBI source, but the guns were never pointed at Houck or his family and were lowered or holstered as soon as Houck was taken into custody.
Can you believe those denials? "Oh, it wasn't a SWAT raid with 25 FBI agents pointing guns, it was a regular FBI raid with 15 agents just brandishing them."
No, we don't think you're stupid. Besides, Mark Houck is a terrorist who defends his son against unhinged Democrats while he's trying to talk women into, er, reproducing instead of accessing "reproductive health care."
Shameless liars pollute every governmental institution in America and particularly in Merrick Garland's Department of Social Justice.
So Hawley decided he'd do what little he can about it…
Here's the letter…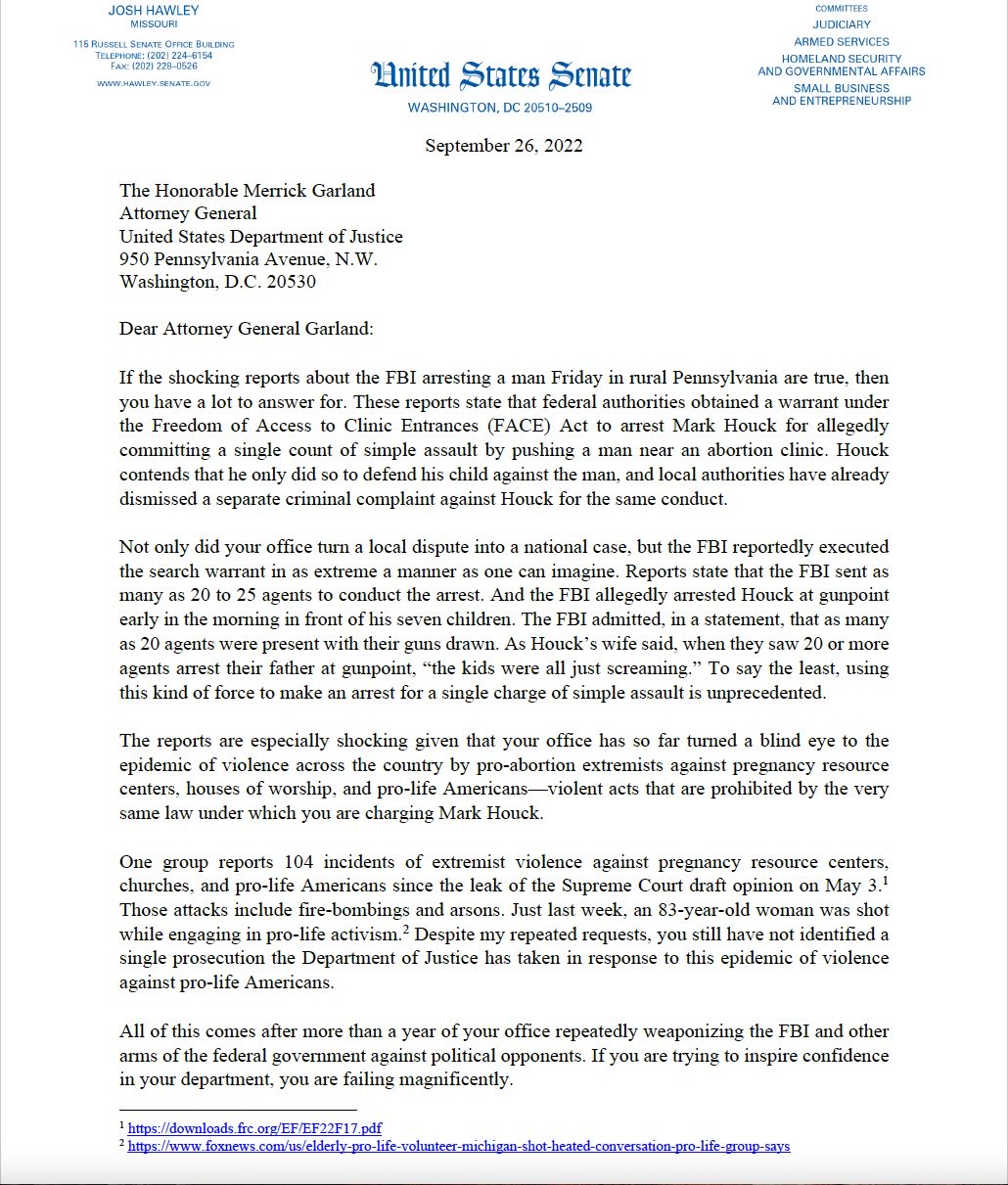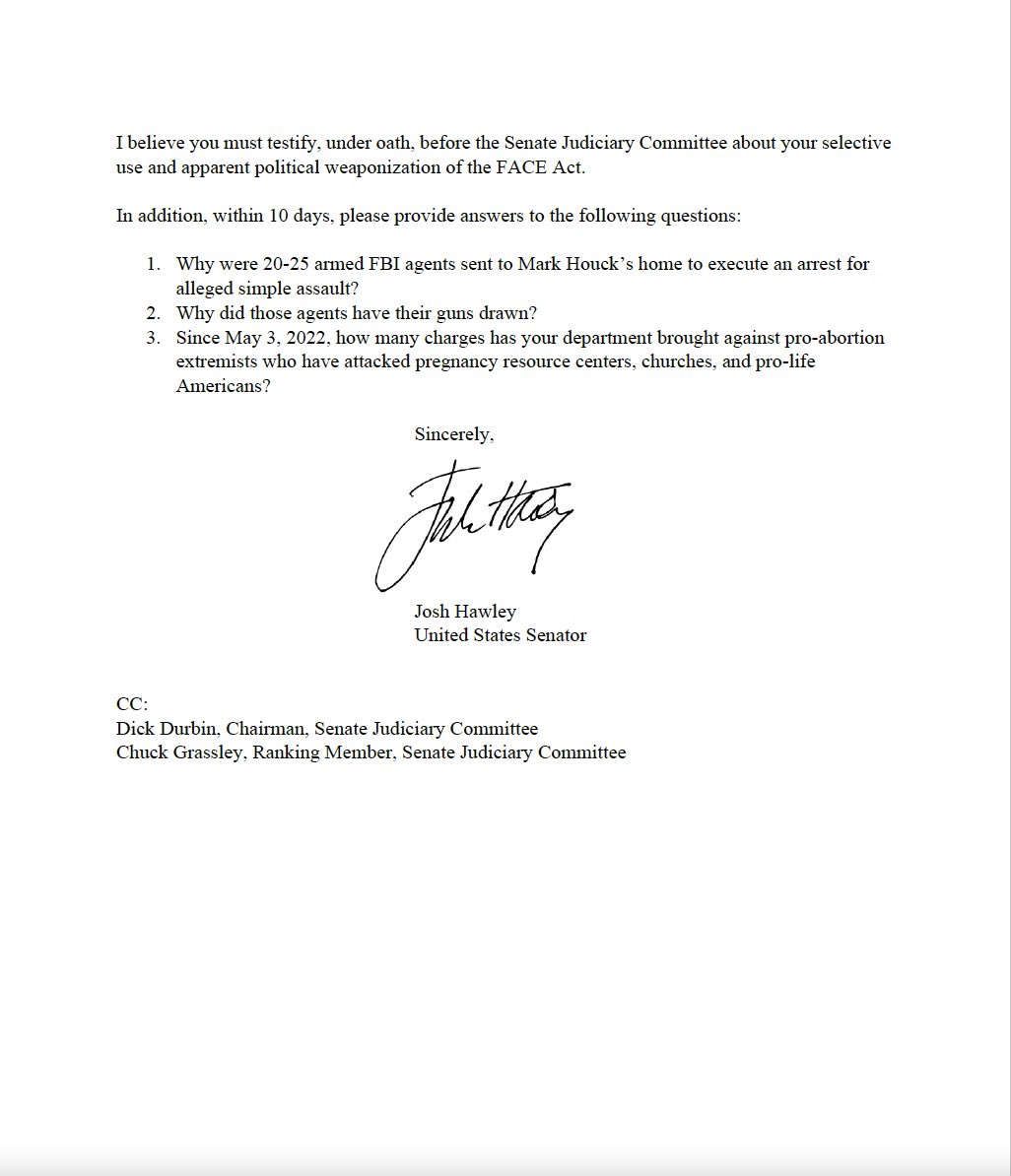 Will anything come of this? Probably not.
Dick Durbin, the crooked Chicago partisan hack who chairs the Senate Judiciary Committee, isn't likely to call Merrick Garland in for committee testimony this close to the midterms, especially when Garland and the FBI's corrupt director Christopher Wray are merely following orders from the political gurus at DNC headquarters who've committed themselves to the prospect that everybody to the right of Rashida Tlaib is a white supremacist terrorist under federal suspicion.
Which is the real reason Mark Houck's family had to be terrorized over a shoving match with a James Hodgkinson wannabe who attacked his kid.
The problem here isn't just with the weaponized DOJ, or the Democrat tyrants who weaponized them. It's with the Republican Party. Because while Hawley is doing his job demanding answers from Garland, nothing that happened to Houck is unprecedented. Those FBI raids treating ordinary Americans as terrorists because they don't share Team Biden's politics have been going on for the better part of two years, and yet Republicans, particularly Senate Republicans, haven't committed to putting a stop to it.
And they can. They can shut everything down until this stops. Blow up the continuing resolution that funds the government and particularly DOJ, and force Team Biden to abandon the weaponization of law enforcement.
You can do that with 50 votes. It takes some sand and some commitment. Hawley has it, but there aren't enough of him.
Hopefully after November 8 that'll change. But of course abuses like the one which happened to the Houcks are specifically aimed at preventing such a result.